Thomas Burris boarded his flight, found his seat and opened a book on nuclear receptors, the class of proteins he studies as a pharmacologist and molecular biologist. His seatmate glanced at the book title and shook his head in disapproval.
"I don't approve of that stuff," the man said. "Nuclear power is really bad."
As director of UF's Genetics Institute, Burris doesn't have to explain that the nuclear receptors in our cells have nothing to do with nuclear reactors. But he does have to bridge the distance between disparate fields to foster the kind of innovation that's possible when far-flung disciplines collide. It's an approach he honed while launching pharmaceutical startups throughout his career, which has taken him from Ely Lilly to UF Scripps Biomedical Research (then Scripps Research Institute), and to St. Louis University and Washington University before taking on his role at UF in 2021.
Part of what drew him here was a long history of tech transfer. In May, the nonprofit Heartland Forward ranked UF first among public universities and second nationwide at moving discoveries from the lab to the world.
"I've started four companies, and they can be quite challenging if the university is still in the early stages of the learning curve," he says. "I felt confident that, given UF's history, I could continue to do that here."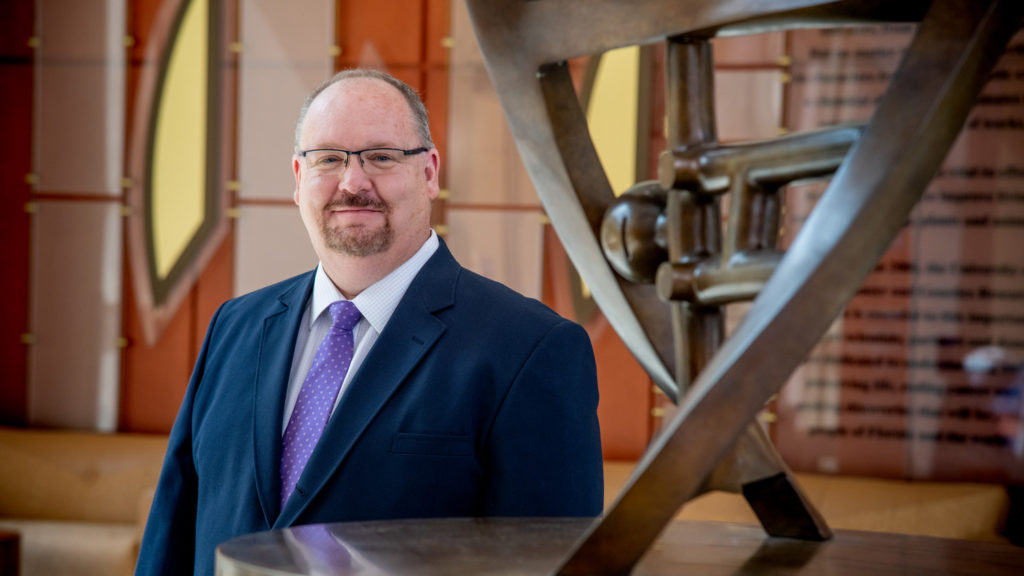 Industry experience helps Burris stay focused on the patient at the end of the pipeline.
"You're used to being able to describe how your science is going to affect human health, because in a company, if you're not doing that, they don't want you," he says. "I think that put me at an advantage in academia, where you have to explain your science to funders and reviewers."
Since returning to academia in 2008, he has garnered more than $25 million in research funding. The move gave him license to delve deeper into nuclear receptors — proteins that detect hormones and regulate gene expression — laying groundwork that could lead to treatments for conditions from metabolic disease and Alzheimer's to fatty liver disease and traumatic brain injury.
"Dr. Burris has broad interests overlapping multiple disciplines in genetics and genomics, and UF has a history of doing genetics research across disciplines," says David Norton, UF's vice president for research. "He brings a perspective that sets up the Genetics Institute to be even more successful."
As a bright student in a blue-collar Illinois town across the river from St. Louis, Burris initially thought he'd be a physician. In college, he quickly realized he preferred the lab to the bedside. He wound up at medical school anyway — first as chair of the pharmacology and physiology department at Saint Louis University School of Medicine, then as a professor in the Washington University School of Medicine and St. Louis College of Pharmacy, where he also served as vice president for research.
In his role at UF, leading an institute of more than 200 researchers from eight colleges, he knows he'll need to draw on a different toolbox than that of a department chair.
"Instead of line management, it's more about administration by influence," he says. "Everybody's following their own path, but a lot of their paths intersect. The chance of success increases the more those paths cross."
His goals for the Genetics Institute include:
Leveraging relationships with researchers at UF Scripps Biomedical Research, one of the top National Institutes of Health-supported research centers in the state, which joined the research arm of UF's academic health center this year.
Pursuing NIH training grants to support Ph.D. students, further developing a top-tier doctoral program for the biological sciences.
Expanding master's programs and adding certificate programs to build the pharmaceutical and biotechnology workforce, with a focus on AI integration in genomics.
Increasing the use of chemical genomics technologies developed for drug discovery in other applications, from insect control to plant molecular biology.
Developing an NIH-funded Center of Excellence in Genomic Science with UFGI as the hub.
Burris also believes in opportunities for collision between disciplines, such as the UFGI Seminar Series, where he recently found himself learning about polar bear genetics.
"It diversifies your thought process," he says. "Suddenly you're talking to someone that you'd have never interacted with otherwise. Even though I may never work on that, maybe this person uses a technique that I can apply to what I'm doing."
That's the potential inherent in the institute's diverse fields, he says.
"I want us to be known as a place where people from different areas want to come and interact," he says. "When we suddenly bring a new light to a particular field, that's exciting."
Photos by John Jernigan
---
Source:
Thomas Burris
Director, UF Genetics Institute
Professor, College of Pharmacy
burris.thomas@ufl.edu