Astrobiologist Amy Williams' mind is on Mars.
Williams, a University of Florida geology professor, recently joined her second Mars mission: After serving on the Curiosity rover team since 2009, she's now a participating scientist on the Perseverance rover, which touched down on the red planet on Feb. 18.
"Serving on any NASA mission is the greatest experience I could possibly dream of," she said.
Her proposal to search for signs of ancient life on Mars was one of 13 selected by NASA from over a hundred submissions.
Williams joined the Curiosity mission as a graduate student at age 24. As a principal investigator on Perseverance, she's able to return the favor, offering her graduate students places on a mission to Mars. Now, when students share their aspirations, she's happy to say, "Would you like to work on Mars? Oh, good. I can help you with that."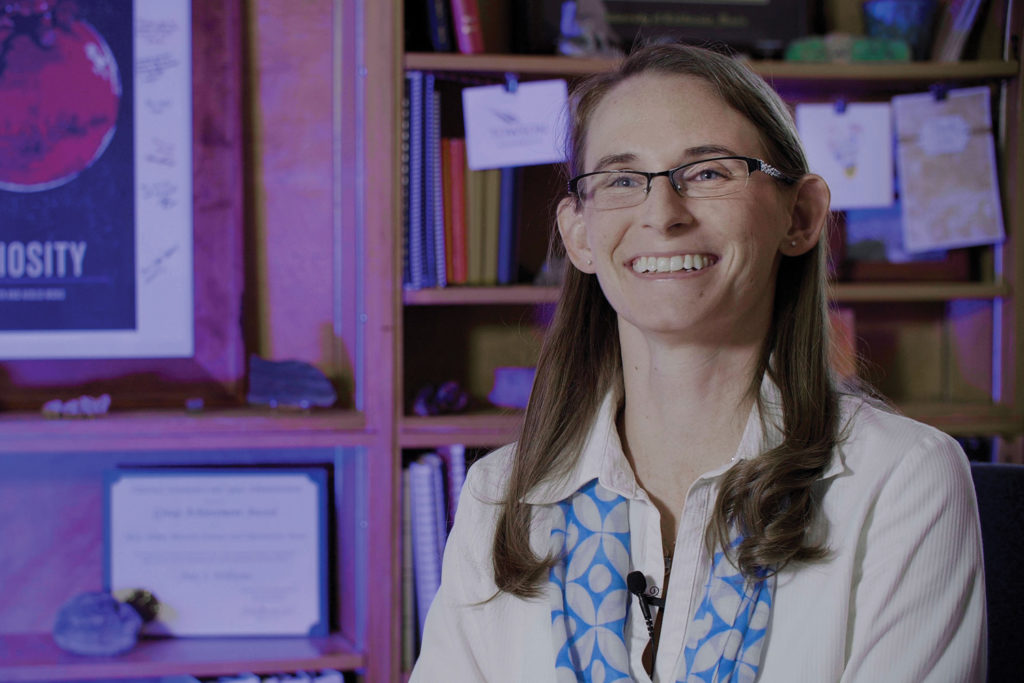 Doctoral student Denise Buckner calls Perseverance "the coolest thing I have ever done" — which is saying something, as Buckner came to UF from NASA.
"Astrobiology is very interdisciplinary, so I had to study many different space-focused subjects throughout my academic career to get here," she said. After an undergraduate degree in aviation operations and a master's in space studies, Buckner worked at NASA's Ames Research Center in Silicon Valley. When she heard about Williams' research, Buckner applied to study with her at UF.
"I wanted to learn more about geology and how it can teach us about how to look for life on other planets," she said. "Conducting research on another planet and exploring places no one has ever explored before is the most exciting work I can possibly imagine."
Doctoral student Lydia Kivrak started dreaming about Mars when the Spirit and Opportunity rovers landed in 2004, when she was in second grade.
"I remember reading about them and playing Flash minigames about them on the NASA website," she said.
Now she's part of a Mars mission, one with unparalleled opportunities: The rover's SHERLOC and SuperCam instruments use spectrometers, lasers and cameras to allow Williams' team to search for evidence of life in organic matter on Mars, investigating discoveries in nearly real time.
"As soon as the data can be downlinked from Mars, we're able to evaluate if we're looking at organic matter, and what kind of organic matter it is," Williams said. "My dream would certainly be to find really conclusive evidence for ancient life on Mars."
The first step: changing the clocks. A Martian day, called a sol, is 24 hours and 37 minutes long, so the Perseverance team will live on Mars time to keep the mission synchronized.
"As you start to progress 37 minutes forward every day, eventually you're getting up at 11 p.m. and going to work. So you're making your coffee at a time you may not be used to making your coffee," Williams laughed.
---
My dream would certainly be to find really conclusive evidence for ancient life on Mars.

– Amy Williams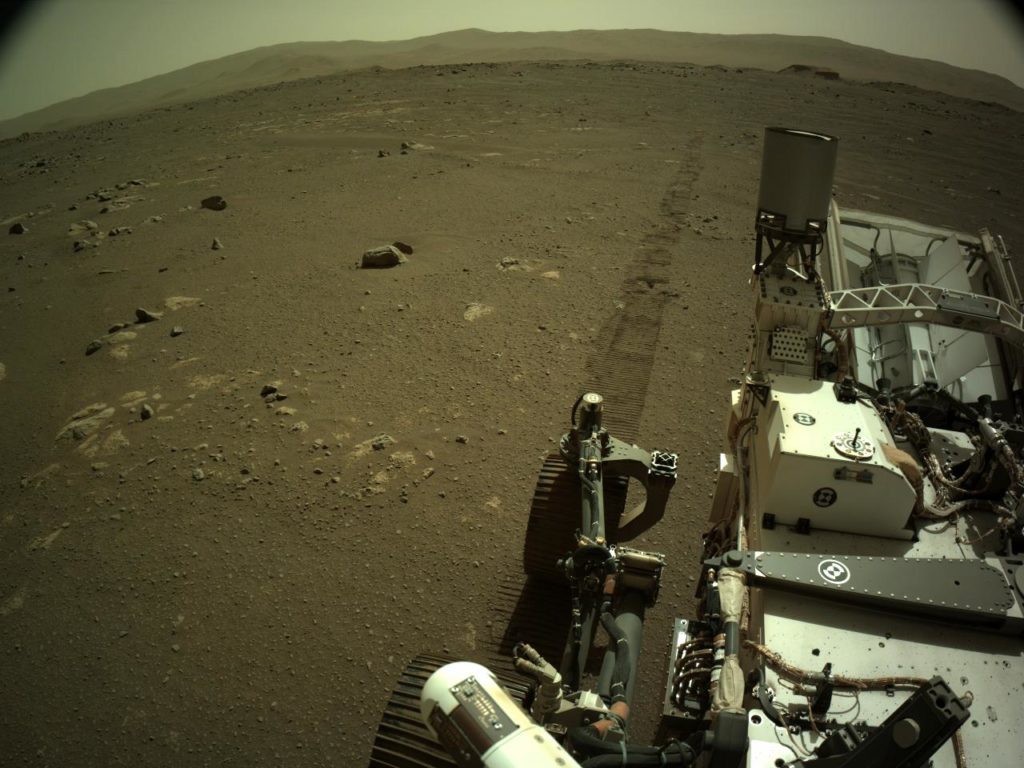 ---
The pandemic is forcing the scientists to collaborate remotely instead of gathering at NASA's Jet Propulsion Laboratory in California. On landing day, Williams joined the rest of the Perseverance team online, watching the rover's progress and listening to NASA's livestream during entry, descent and landing, known as EDL.
"The big trick with EDL is that there is a 14-minute delay for that information to come to Earth, and it takes roughly seven minutes for all of entry, descent, and landing to complete. So basically whatever has happened on Mars has already happened when we first start receiving the data," she said.
Once those nerve-wracking minutes were past, Williams was able to get down to searching for signs of life. But Curiosity and Perseverance aren't her only Mars projects. She's also informing the next decade of Mars missions as part of the National Academies' Planetary Science and Astrobiology Decadal Survey, where she's part of a team of 15 Mars scientists who help NASA prioritize missions for 2023-2032.
"It's a dream come true to have this be my job," she said.
---
Source:
Amy Williams
Professor of Geology