When you think about the internet of things, you likely think of signals zipping through air and space, computing in the clouds.
But the signals in the ether need roots, and at the University of Florida the internet of things is deeply rooted in the MIST Center.
"Here in the MIST Center, we provide the nuts and bolts, the hardware technologies for smart systems," says Toshi Nishida, director of the center, which was funded by the National Science Foundation in 2014. MIST stands for multi-functional integrated system technology.
David Arnold, MIST Center co-director, describes the internet of things as a tree and the MIST research as its roots, underground and unseen but vital for the nutrition of the tree as a whole. For example, Arnold says, a smartphone can operate in the internet of things, but only thanks to what's inside.
"Ever thought of what's inside your iPhone, what makes your smartphone smart? That's what we do," Arnold says. "Before, it was a dumb phone. What makes it smart? Well, it's the touchscreen and the compass and the GPS and accelerometer, and that's the kind of stuff we work on."
One MIST team is working on flexible and stretchable electronic substrates, which could be integrated into fabrics or automotive surfaces. Another team is working on ultra-lower-power memory storage technology to extend cellphone battery life. Since the center works with industry partners, many projects seek to solve a commercial issue.
For example, Boeing is seeking to reduce the noise and fuel consumption of its aircraft. MIST is working to develop tiny, stick-on sensors that can withstand the harsh environment of an aircraft flying at 30,000 feet at temperatures of -40 degrees Fahrenheit. So far, the newly designed sensor is less than a millimeter thick. Eventually the data collected could help in designing quieter and more fuel-efficient aircraft.
Miniaturizing hardware is important, too, and a team is working on reducing the size of the rooftop modules on self-driving cars. Today, these modules weigh about 80 pounds. Using MEMS, micro-electric-mechanical systems, the team hopes to create a module about the size of a cellphone, maybe smaller, that has all the same functionality.
The smaller devices also would be helpful for airborne navigation and mapping. Military drones could carry them for surveillance or mapping of underground tunnels. In the civilian world, quadcopter drones equipped with the smaller modules could deliver packages, or pizza.
"This would be a radical leapfrog in technology," Arnold says.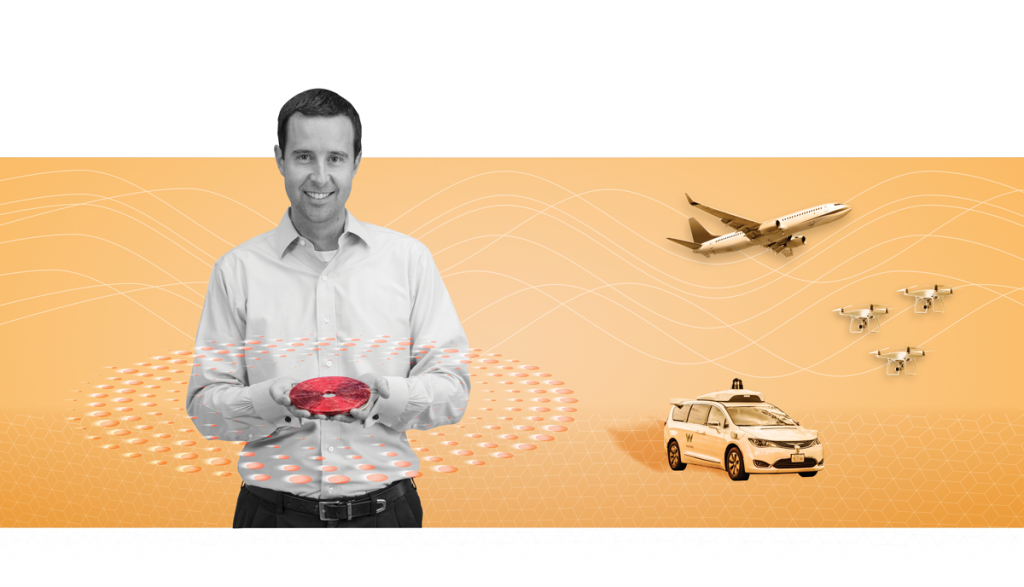 A project to enhance wireless power could lead to better options for charging not only cellphones but all the emerging IoT gadgets: wireless earbuds, hearing aids, implantable medical devices, and more. Wired charging, plugging into an outlet, has given way to charging pads, but a device must be perfectly centered on a pad and cannot be used while charging. A MIST team is designing a charging system that can be placed in the middle of a table and charge multiple devices at a distance.
What's more, the station charges even through clutter, juicing a device in a purse or a backpack.
Arnold says it's a revolutionary technology that operates at an ultra-low frequency.
Working with defense contractors, another MIST team is developing antennas that cannot be jammed or hacked, a big issue for military security and for safety. Bad weather and hacking can both disrupt signals to GPS, so ability to operate at the level of an antenna is important for navigation and for using drones.
"Others are focused on the networking, the big data, what you do with all this data society is generating," Arnold says. "We're focused on hardware.
"The internet of things is evolving around us," Arnold says. "We're trying to build a disruptive battery technology or the next-generation sensor that is the foundation of the internet of things."
Nishida says the initial vision of cloud computing that takes place far from the source is being replaced by a newer term, fog computing, now that more sensors are able to handle some computing.
"So fog computing is closer to the ground, closer to the source," Nishida says.
As luck would have it, an even newer term, mist computing, is taking hold.
"We can now do some processing at the sensor node, at ground level, so we don't need to transmit as much information to the fog or to the cloud, and that reduces the amount of power you need, too," Nishida says. "Fortuitous for us, since we are the MIST Center and we are working on the enabling technologies for mist computing."
Sources:
Related Website:
This article was originally featured in the Summer 2018 issue of Explore Magazine.