Duane Mitchell's team at the University of Florida is a world leader in understanding how the body's own immune system can be marshaled to fight cancers, especially brain cancers, in children and adults.
It's a big job, managing grants, directing clinical trials, writing journal articles, courting donors and countless other things.
At home, he and his wife have three young boys of their own to raise.
So when he was approached about also applying to be the director of UF's Clinical and Translational Science Institute, he could have been forgiven for saying he had too much on his plate.
Instead he jumped at the opportunity.
"I was so impressed by the University of Florida's commitment when we came here from Duke eight years ago, that I saw this as an opportunity to take some of what we've learned about using the extraordinary translational research capabilities of the university and contribute in a more meaningful way to helping the institution as a whole continue to develop and to elevate those capabilities in ways that will benefit not only my own research program but open up opportunities for other programs," Mitchell says.
Mitchell credits David Nelson, the CTSI's founding director and now senior vice president for health affairs and president of UF Health, and CTSI co-director Betsy Shenkman with doing transformative foundational work that has the institute "optimally positioned" to advance healthcare for many different groups moving forward.
In 2009, UF was awarded a five-year, $26 million Clinical and Translational Science Award from the National Institutes of Health to accelerate scientific discovery, enhance medical care, produce highly skilled scientists and physicians and foster partnerships with industry. The university used an additional $23 million in funding from UF Research and $70 million from the College of Medicine to construct a state-of-the-art building to house the CTSI and the Institute on Aging.
A big emphasis for me going forward is to stay really focused on the areas where we can have the greatest improvement in the health of the constituents in the communities that we serve.

– Duane Mitchell
In 2010, the CTSI partnered with Florida State University's College of Medicine to expand community-based clinical research, which led to creation of the OneFlorida Clinical Research Consor-tium in 2013. In 2015, UF received a second, $17.5 million CTSA award and added FSU as a partner to continue developing OneFlorida. To date, the OneFlorida Clinical Research Consortium has facilitated more than 125 projects studying areas as diverse as obesity, cancer, hepatitis C, hypertension and substance abuse. In 2019, UF and FSU received another five-year, $29 million CTSA award to expand their collaboration, further developing and aligning expertise across the two universities to address complex health challenges in the communities they serve.
"A big emphasis for me going forward is to stay really focused on the areas where we can have the greatest improvement in the health of the constituents in the communities that we serve," Mitchell says. "We want to leverage the data infrastructure that's been built and developed over the last 10 years, the collaborations and the interconnectivity between all of the colleges here at UF, but also the collaborative partners of OneFlorida throughout the state, where we can play a meaningful and lead role in advancing health initiatives and the health priorities for Florida."
Mitchell says UF Health's expansion in north and central Florida, including Jacksonville, Orlando and The Villages retirement community, as well as the CTSI's relationship with the FSU College of Medicine and other Florida health systems, provides countless new opportunities for impactful clinical and translational research.
"The learning health system that Betsy Shenkman and others have been developing is based on the idea that we should be learning something from every patient we engage with that helps us change practice patterns and improve health," he says. "By adding new patient populations in Jacksonville, Orlando and The Villages, we now have access to even more demographically, socio-economically and geographically distinct populations to learn from, and to study how to deliver high quality care in these distinct environments."
Pandemic Response
Although no organization could have fully anticipated the impact of COVID-19, Mitchell says the events of 2020 "have really shown in an extraordinary way how the CTSI is positioned to nimbly and quickly respond to pressing healthcare needs and bring the full leverage of the resources that the University of Florida has to bear upon a pressing problem. We really have tapped into every existing infrastructure piece and communications link and collaboration that already existed in order to respond to this pandemic, and we've been able to rapidly stand up and foster new initiatives in record time because of the extensive capabilities that CTSI has."
For example, when the pandemic hit, CTSI quickly established a research task force with more than 40 experts from across the UF campus in fields ranging from virology and informatics to epidemiology and infectious disease. The task force developed working groups to advance areas of COVID-19 research and to keep the community informed on progress. The institute also awarded more than $2 million in seed grants to get projects going quickly while researchers pursued additional federal funding.
"We were able to tap a huge, diverse array of expertise imbedded throughout our colleges in Gainesville, Orlando and Jacksonville, and with our collaborators at FSU, to identify very specific areas that were being challenged by the pandemic and very specific research initiatives that could try to address those challenges," Mitchell says.
He adds that because of the CTSI's reputation, NIH has repeatedly called on UF to rapidly set up and execute high-priority national clinical research initiatives for the state of Florida through the OneFlorida network.
"That ability to activate large-scale clinical research studies through a multi-institutional network in a matter of a few weeks is an extraordinary capability that leverages the foundational relationships that have been built through the OneFlorida Clinical Research Consortium," Mitchell says.
As the pandemic has worn on, research has evolved from developing better tests and equipment to developing treatments and vaccines. But, Mitchell says, another key component is making sure the public knows about, trusts and has access to those treatments and vaccines.
"That's a huge challenge for the healthcare system," Mitchell says, adding that CTSI's Community Engagement Program led by Linda Cottler, and its established relationships with UF's Institute of Food and Agricultural Sciences and College of Journalism and Communications, has uniquely positioned it to share information with hard-to-reach and underserved communities, like rural or inner-city populations, and migrant workers.
Artificial Intelligence
In the midst of the pandemic, UF announced a major initiative to become the nation's leading university in the field of artificial intelligence. Thanks to $50 million in gifts from alumnus Chris Malachowsky, and NVIDIA, the computer graphics company he co-founded, UF's HiPerGator is now one of the world's most powerful AI computers. With support from the state, the university is building a state-of-the-art data science building and hiring at least 100 new faculty members in artificial intelligence. It is also retooling the curriculum to offer AI courses in every college.
"We have an extraordinary opportunity to capitalize on the AI initiative to understand how to more effectively deliver healthcare solutions to the citizens of Florida," Mitchell says.
I think one of our really important roles is to increase investigators' awareness of our university's AI capabilities and provide networking opportunities. Hopefully CTSI will be a clearinghouse for many new partnerships.

– Duane Mitchell
In particular, he envisions using AI to link healthcare experts with educational experts to improve the health of young people.
"I think we have an opportunity to think about the integration of health Information as well as education information to impact the health of current patients, as well as the next generation, and use AI as a real enabling tool to give us glimpses into how to do that."
Mitchell cited the work of David Tran, chief of neurooncology and associate professor in neurosurgery, as an example of someone who is leveraging machine-based learning and AI tools to identify novel targets for gene therapy in brain cancer.
"Our group is using HiPerGator's data management and algorithm tools to analyze the genomics of cancers as they relate to a patient's own immune system to identify new targets for immunotherapy, not just for brain tumors, but for multiple solid cancers."
Mitchell anticipates the CTSI "facilitating the handshake" between researchers from many different fields as they figure out how to use AI to improve health.
"I think one of our really important roles is to increase investigators' awareness of our university's AI capabilities and provide networking opportunities," he says. "Hopefully CTSI will be a clearinghouse for many new partnerships."
Racial Equity
After the murder of George Floyd in May 2020, UF President Kent Fuchs said the university would use the 2020-2021 academic year to focus on the Black experience, racism and inequity. UF Research and the Office of the Chief Diversity Officer created a Racial Justice Research Fund that has so far committed nearly $1 million "to support research and scholarship that will inform understanding of the Black experience, racial justice, diversity, equity and inclusion on campus and beyond."
Among the recipients of that funding is the CTSI's Diversity and Cultural Competence Council, or DC3, which was organized to look at issues of inclusion, diversity, equity and access within clinical research, particularly in the training and education of the healthcare research workforce.
"Access and inclusion have been central themes at CTSI long before I got here, but this past year, with the clear focus and highlight on these pressing issues, we have elevated our commitments in this area," Mitchell says.
In January, the DC3 hosted the inaugural Black Voices in Research Storytelling Event, a platform for Black biomedical researchers and research professionals to amplify their stories. Five UF biomedical researchers shared their stories in a livestream that was recorded and shared widely.
"This project harnesses the universal, culturally relevant power of personal storytelling, grounded theoretically in the life story tradition to amplify and celebrate the Black scientists and biomedical professionals' experience – that is, Black voices in research at UF," Mitchell says, adding that he anticipates more such programs in the future.
"Biomedical research is integral to translation of scientific findings to healthcare policy and clinical bedside practice," he says. "Biomedical professionals who themselves identify as Black, and understand issues relevant to the Black community, are most qualified to produce culturally sensitive research."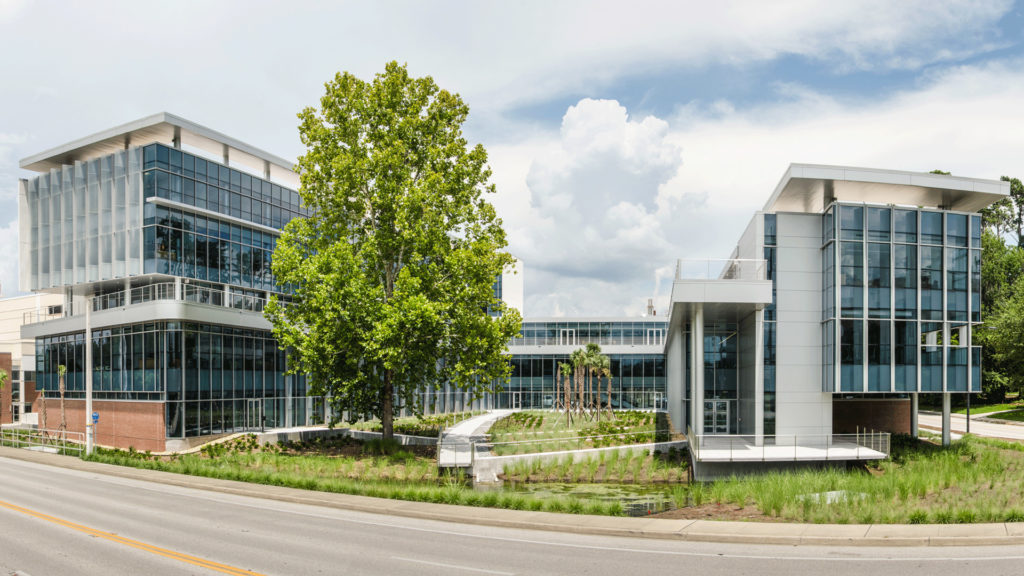 Discovery Research
Mitchell says that his own career as a laboratory to clinical translational researcher has fueled his passion for leveraging very basic research in fields like chemistry and engineering and moving it to human applications.
"The University of Florida has extraordinary capabilities in many areas like neuroscience, diabetes, and precision medicine, and I am committed to advancing CTSI as a place that can accelerate discoveries into treatments for patients," he says.
An important accelerant of biomedical research is a strong and expanding philanthropic base that supports promising discovery work, Mitchell says. He credits philanthropy with enabling much of the basic and translational discovery work before it is ready for consideration for funding by government or industry. He cited as examples the Lillian S. Wells Foundation and the Harris Rosen Foundation, which together have donated more than $25 million to support brain research at UF.
"Our ability to really go after high-risk, high-reward research has been driven by philanthropic support," he says. "Once you have the data and the underpinnings of a hypothesis that looks like it's worthwhile, then you can seek extramural funding, but philanthropy can be critical to getting to that point."
Mitchell aims to leverage his role as CTSI director to increase awareness and philanthropic support for the outstanding clinical and translational work being advanced by UF investigators.
David Norton, UF's vice president for research, calls Mitchell "a tremendous asset for our university," and was so impressed by his skills that he also recruited Mitchell to serve as an assistant vice president for research.
"Not only is he a world-class researcher in brain cancer," Norton says, "but he possesses a remarkable acumen for bringing teams together to address challenges that no single scientist, or single institution, can address."
---
Source:
Duane Mitchell
Director of UF Clinical and Translational Science Institute
duane.mitchell@neurosurgery.ufl.edu
Related Website: