In November 2007, two months before his first day on the job as Asian art curator at UF's Harn Museum of Art, Jason Steuber went shopping in New York City with the museum's development director.
Steuber wanted to show her a handful of galleries he believed to be good sources for building the collections. She wanted to learn more about his vision for the collections.
As they navigated the galleries on the Upper East Side, Steuber put a couple of pieces on hold. There is a ritual to buying art, Steuber says, the seller assessing the buyer's knowledge, the buyer assessing the quality of the seller's art. Steuber's aesthetic must have clicked for one art dealer, almost too late. Steuber had one foot out the door when she said, "Hold on."
The art dealer went to a closet, brought out a box, and revealed a treasure, centuries old and temporarily homeless: a bodhisattva.
Steuber's reaction was visceral and immediate. The bodhisattva was the missing centerpiece Steuber felt the Korean art collection needed. Before he knew how to pay for it, Steuber said, "We'll take it."
Homeless no longer, the bodhisattva became a Gator.
Bridging Cultures
James A. Van Fleet arrived on the UF campus to lead the ROTC program and serve as football coach, and still ranks as the fourth most successful football coach in school history.
He had already distinguished himself in World War I and went on to serve in World War II, along with classmates Dwight D. Eisenhower and Omar N. Bradley, as part of the West Point class of 1915, labeled by military historians the "class the stars fell on." Van Fleet served as commander of U.S. and U.N. forces in South Korea during the Korean War, and his son, a fighter pilot, was shot down over North Korea.
"He was a very good general, but he also loved the Korean people," Steuber says, "and they loved him back."
The football coach and military man had a gift for making friends. As he traveled in South Korea, he cultivated ties, and people often gave him gifts. He collected as well, and as the treasures piled up, he designated a room in his home the Korea Room. In 1988, the beloved general, then 96, donated 23 paintings and porcelain pieces in his Korea Room to UF.
The gift came a couple of years before the Harn opened and a couple of decades before the Cofrin Asian Art wing was added. But Van Fleet's Korea Room, in a sense, became the foundation for the Korean Gallery, the only gallery in the Harn dedicated to one country. The holdings are small — 194 today — but exceptional.
"We can go three rounds with anybody," Steuber says.
Upon his arrival, Steuber found works that had been out of circulation in the art world for decades and set about the meticulous research of documenting their history and assessing their condition. What he found was astounding: three national treasures, one scroll from each of the last three centuries, by noted Korean artists.
"These were important paintings," Steuber says. "They had not been lost, but they had not been in the academic and art arenas. We brought them back into the dialogue, not only for American scholars, but for international scholars and Korea itself."
Steuber set about identifying funding for conserving the scrolls. Each one can cost tens of thousands of dollars and take a year or more to restore and conserve.
The Van Fleet collection also included high-quality ceramics, and bringing the bodhisattva into the fold, Steuber knew, was a finishing touch that made the Korean collection special. But he also suspected the sculpture itself had not yet shared all its secrets. More research was needed.
Centuries-old Secrets
Behind the paintings, sculptures and porcelain in a museum is an abundance of scholarship and science. As a 21st century curator, Steuber is eager to use technology, too; anything to learn more about the precious pieces entrusted to the Harn.
Not long after his arrival in 2008, he had an idea. Why not X-ray the bodhisattva?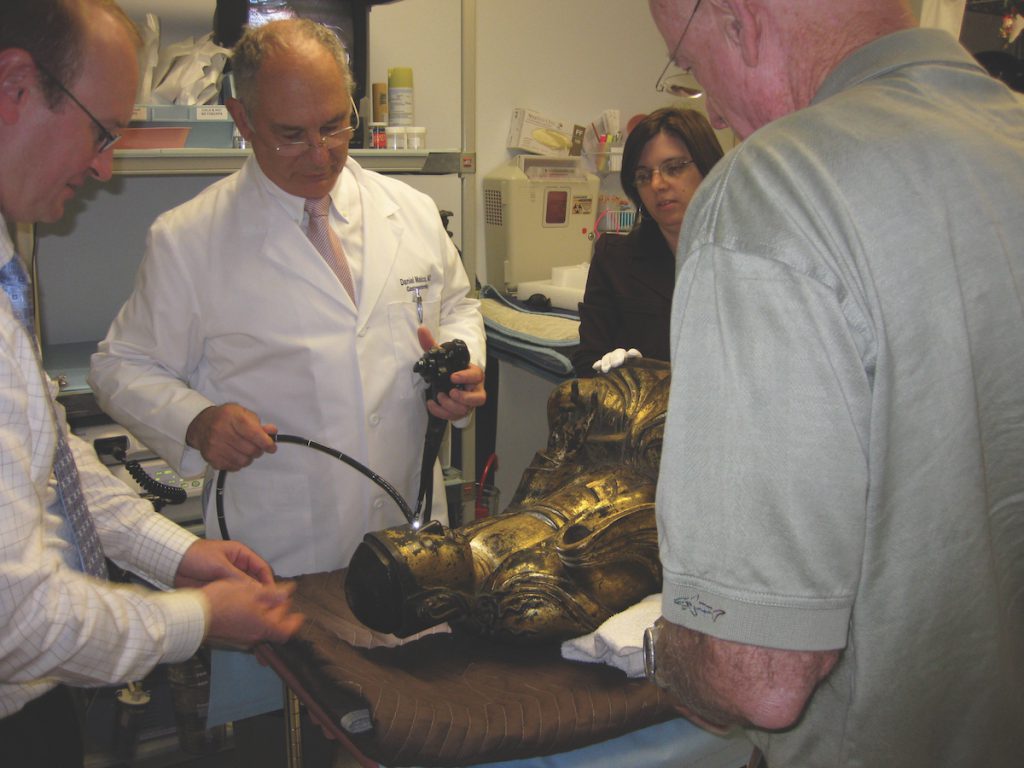 He arranged an early morning radiology appointment and a ride to UF Health, and set off with the bodhisattva. They were met by a gurney and gently, the sculpture was wheeled into radiology about an hour before human patients were due.
"At first there were four of us, then another doctor, then another technician, and pretty soon we had a crowd from the radiology department," Steuber says. "Then the head of radiology came down. I thought we were in trouble, but he said, 'the CAT scan is open; let's do a CAT scan.'"
Gung ho about the research possibilities, Steuber accompanied the bodhisattva to an imaging room. X-rays are not common in art, but not unheard of, either. A CAT scan, however, was a new opportunity and would reveal even more than an X-ray.
"That was a great moment, a very research-oriented moment," Steuber says. "We brought the resources of a tier-one research university to bear, and we learned a lot."
Although he was already convinced the bodhisattva was special, the CAT scan showed Steuber what a tour de force the sculpture really was.
Circa 1640, an artist, likely a monk, chose to approach the creation of this bodhisattva in a manner Korean art scholars had never seen. Sculptures of seated bodhisattvas are two pieces of wood. This artist chose to use a massive tree and carve the bodhisattva from one trunk. Not only that, but the artist used a branch for the raised arm, instead of carving it separately and attaching it.
As the image took shape on a screen, Steuber's excitement grew. For centuries, no one had guessed how the bodhisattva took shape. The skill it took to create this bodhisattva showed an exceptional talent and the sculptor's respect for the sacred energy of the tree.
"The tree rings took shape, and we could see that the arm had been a branch," Steuber says. "We learned a new piece of the bodhisattva's story, 300 years later, and science and technology made that possible."
Word of the unusual early morning patient filtered out in the medical community, and Steuber got a call two weeks later from a doctor at North Florida Regional Hospital. Would the bodhisattva like an endoscopy?
Steuber jumped at the chance to learn more of the bodhisattva's secrets.
The bodhisattva's topknot and hands come off, so the tiny endoscopic camera was inserted. The inside view was illuminating, Steuber says. Pages of religious text — sutras — previously retrieved decades earlier from the bodhisattva's torso came with the sculpture. But the endoscopy showed that the head also contained sutras. Even more perplexing, one set of the bodhisattva's sutras are printed in Ranjana, a Nepalese calligraphic script, and some of the other pages are printed in Chinese and are from the Lotus Sutra, one of the most sacred Buddhist texts.
The pages in the head will stay — it would be destructive to remove them — but the pages from the torso are being conserved and studied by scholars and monks that have kept the tradition and languages alive, in hopes of understanding more about the bodhisattva and who placed the pages inside for safekeeping. The pages are now in Korea, being cleaned and stabilized by Seoul-based conservation scientists.
Conservation Collaboration
Meanwhile, Steuber was following in Van Fleet's footsteps to build a relationship with Korean art curators and scholars. Van Fleet was the driving force behind the Korea Society, formed after his retirement to continue to promote friendships between the U.S. and Korea, and Steuber busily collaborated with the Korea Foundation and the Korea Cultural Heritage Administration to identify the best conservators for the fragile scrolls and sutras and funding for the painstaking process.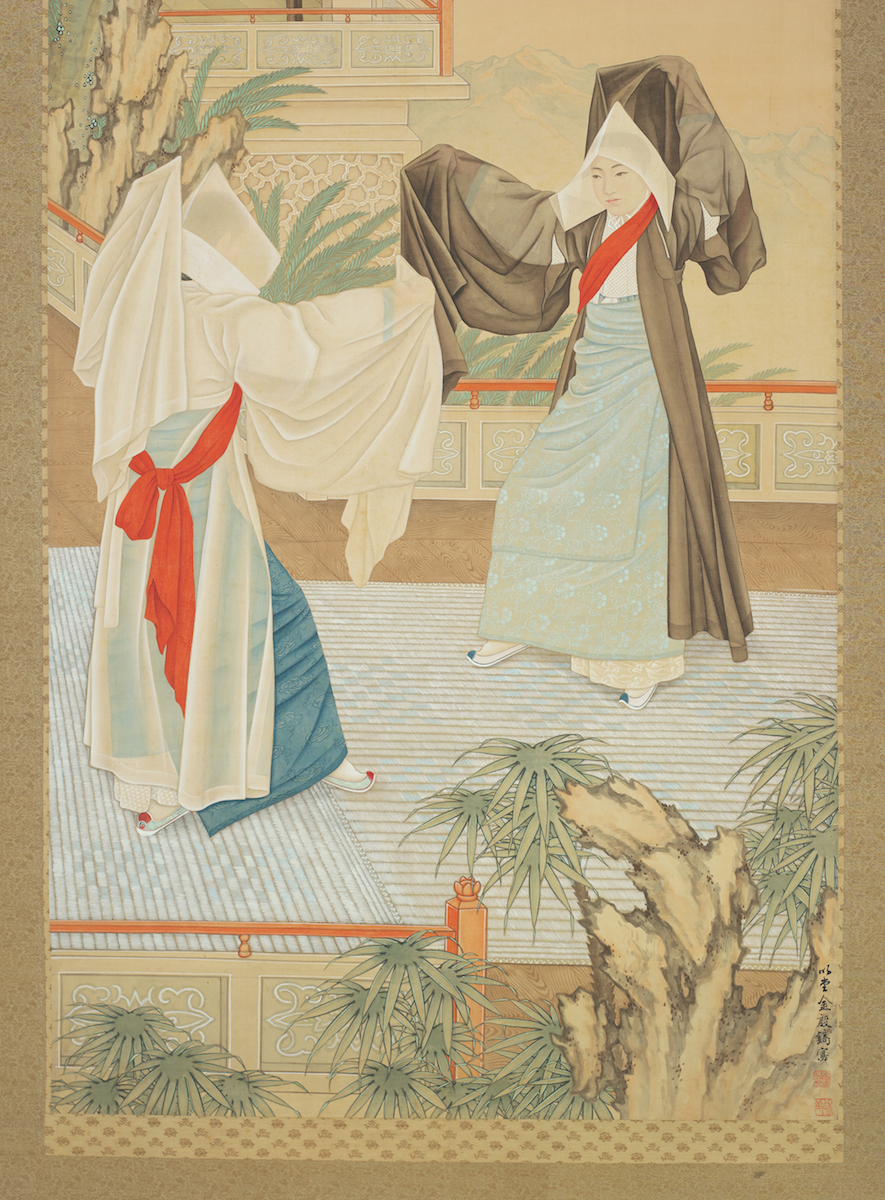 It takes over a year to do the delicate work of conserving artworks on paper or silk. As the curator, Steuber decides whether to fill in loss or leave it as is, and it's an important decision.
"Once we do this, it's set for the next 100 to 150 years at least in terms of being stable," Steuber says.
In concert with restoration is research.
"We respect the history, and try to find out how far back in history we can find the piece."
Sutras, for example, could be marked with the names of donors who commissioned the pages. Conserving the pages could reveal a signature tying the pages to a specific monastery or monk.
Steuber's conservation philosophy is to preserve a piece as is, rather than fill in places where pigment or paper has been lost.
Scrolls are particularly delicate because they are active paintings. They are meant to be rolled and unrolled, and over time, if they are not properly rolled, the scrolls can become wrinkled. Foxing, or stains, can be repaired and dirt, like residue from smoky rooms, can be removed. The three scrolls likely traveled with Van Fleet in a military locker or chest, not always in climate-controlled conditions.
Steuber says Korean professionals use natural materials in keeping with what the original artists would have had available, such as seaweed, and, importantly, all treatments are reversible.
"If it turns out in 100 years that I made a horrible decision, it can be reversed with organic materials," Steuber says. "It's not like we're using Gorilla Glue."
Once he found a Seoul-based conservation scientist, Steuber set about scheduling the scrolls for restoration and conservation. The first two paintings were conserved from September 2013 to November 2014: Kim Hongdo's "Hunting with Falcons" from the 18th century and Jang Seung'eop's "Scholar in a Garden" from the 19th century. Earlier this year, Kim Eunho's "Folk Dancers Dressed as Buddhist Nuns" from 1922, was finished. Research has continued in tandem with conservation. Steuber says the most recent documentation of Kim Hongdo's painting was in 1937, when it was part of a pair, and the whereabouts of its companion are unknown.
With the final painting restored, Steuber faces perhaps his most difficult decision: how to exhibit them. It's much more complicated than simply hanging them.
Even in the protective environment of a museum, the fragile pieces are at risk from light and humidity. Just one flash photo is a day's worth of sunlight exposure. Unlike other paintings, scrolls are not meant to be hung flat against a wall. The longer a scroll stays on display, the longer it will need to rest in the cool, dark confines of museum storage.
"If they go up for three months, they could stay down in storage for almost a decade," Steuber says. "There is a fine line to walk, in how to share them, but also in how to protect them. We get one chance to show them, then they need to rest."
The pieces are important enough to show at the Metropolitan Museum of Art or at an international show in Korea, so Steuber wrestles with how to share them and protect them.
"In 200 years, someone will say 'Thank goodness they didn't harm them,'" Steuber says. "In 200 years, future Gators will be able to see them."
For now, they rest, awaiting their debut.
Finding Meaning
Each year, about 5,000 UF freshmen start their year at the Harn, standing before artworks like the bodhisattva as part of a required humanities course called "What is the Good Life?"
It is a question worthy of a bodhisattva, a Buddhist saint who stops short in the quest to achieve enlightenment to help others on their path to nirvana.
The bodhisattva speaks to onlookers with his hands, Steuber says. One hand is raised in the abhaya mudra: Do not fear me. The other is outstretched in the varada mudra: I will give you what you seek.
Three and a half centuries have left their mark on the bodhisattva. The gilt is worn bare in places, the painted blue eyes and red lips fading. But his aura is serene and inviting.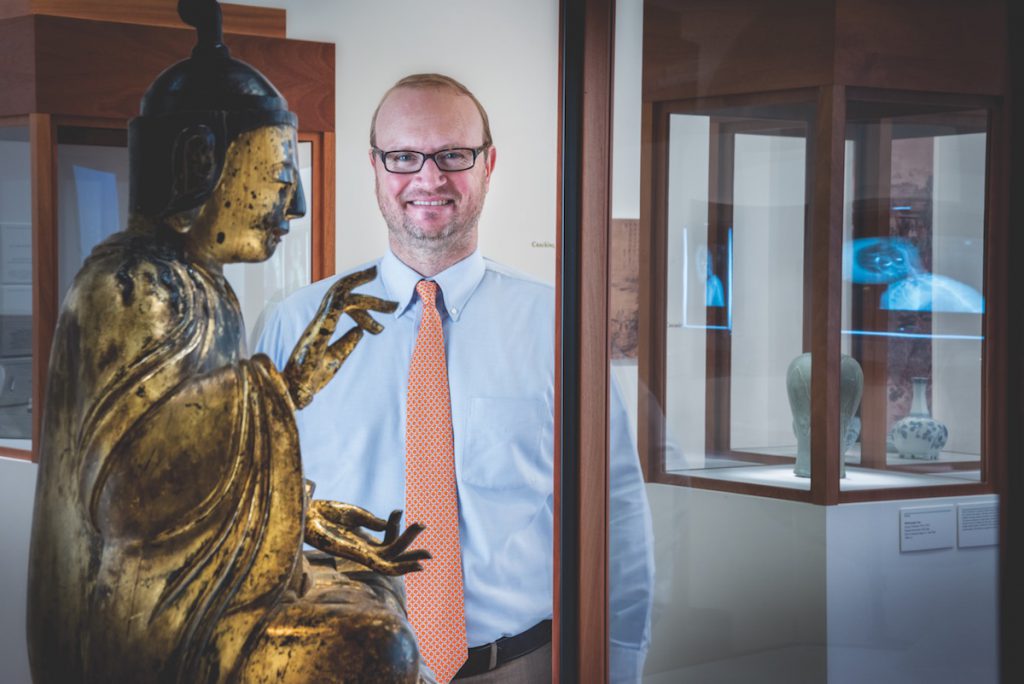 Steuber found the funding to fulfill his goal to acquire the bodhisattva from UF and Harn benefactor Mickey Singer, who previously gave the Harn a Claude Monet oil painting. When approached about the bodhisattva, Singer was willing to explore more expensive pieces, but Steuber was steadfast that this bodhisattva, out of everything in the Asian art world at that moment, was the most exceptional and the right fit for expanding the Korean art collection.
Steuber invited Singer to the Harn when the bodhisattva arrived.
"I brought it in, and opened it, and his eyes teared up," says Steuber, who explained the message in the mudras.
Singer says he was moved by the meaning. More importantly, he felt the bodhisattva belonged, that he had found the right home, a permanent home, at the University of Florida.
"I was there for the uncrating, and there was a tremendous transmission of power. The piece was picked up and placed on a table, and we were on the floor, looking up," Singer says, "just as we would be if he was teaching us."
Timeless lessons of fearlessness and generosity.
Photo Credits: John Jernigan
Source:
Related Website:
Related Video:
This article was originally featured in the Fall 2017 issue of Explore Magazine.