UF astronomy Professor Rafael Guzmán has spent his life looking up at the stars, but it took just one question in the spring of 2011 to shift his focus 180 degrees and send his career into a whole new orbit.
Cristina Garmendia, the Spanish Minister of Science and Innovation, was visiting the Kennedy Space Center to view the launch of a European Space Agency physics experiment to the International Space Station, but the launch was delayed for 24 hours. So a quick visit to UF was arranged, with Guzmán, a Spanish native, leading the tour.
Guzmán mentioned he was working with Spanish astronomers, mounting telescopes on small satellites to search for dark matter, when Garmendia asked the pivotal question.
"This is very interesting, Rafael," Guzmán recalls Garmendia saying, "but have you ever thought about using the same technology to look down at the Earth?"
Guzmán focuses on galaxy evolution using both ground- and space-based telescopes, but he admits he had never really thought about looking back at Earth.
"Typically, astronomy uses very different observational techniques than Earth observation," Guzmán says, "but it turns out that our way of observing the universe actually offers a very competitive set of applications when looking down at Earth."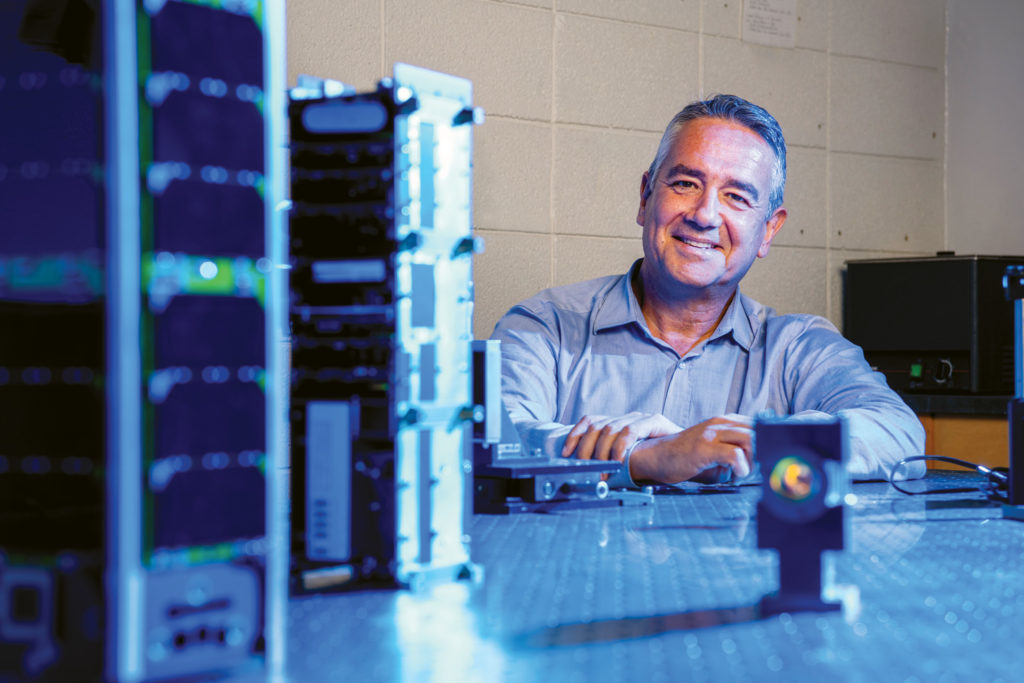 ---
Size = Money
The small satellite telescope Guzmán's team was designing seemed to provide an ideal platform for Earth observation. It could provide as good or better resolution than one 10 times its size. And in space research, size equals money.
The smallsat telescope got its start in 2009, when, as chair of UF's astronomy department, Guzmán was part of a contingent that traveled to the Canary Islands for the dedication of the Gran Telescopio Canarias (GTC), the largest optical telescope on Earth. UF is the only university partner on the GTC and built a $3 million infrared camera that became the first GTC instrument.
While there, Guzmán and Jaime Denis, director of the Instituto Nacional de Técnica Aeroespacial (INTA), Spain's equivalent of NASA, began talking about opportunities to collaborate on small satellites, an area into which Spain had recently ventured.
"INTA had recently launched two small satellites, but it was purely an engineering exercise, with no scientific instrumentation," Guzmán says. "We were building instruments for ground-based observatories, so I suggested we could partner with INTA. They could build the satellites and we could build the instruments, thanks to the expertise in astronomical instrumentation developed at the Department of Astronomy for ground-based observatories."
Negotiations ensued and a few months later Denis came to UF to sign a memorandum of understanding for the two entities to collaborate.
The researchers decided to concentrate on building a simple telescope to explore "dark matter," which is thought to account for 85% of the matter in the universe, but is difficult to detect by traditional means because it does not appear to absorb, reflect or emit electromagnetic radiation, like light.
"Although we cannot see dark matter directly, we theorize that it affects the properties of satellite galaxies within the dark matter halos around large galaxies like the Milky Way that we can observe," Guzmán says. "But observing these effects is very difficult from the ground because these satellites have very, very low surface brightness. They are about 10,000 times fainter than the darkest part of the night sky."
A Spinoff is Born
By the time Garmendia visited UF in 2011, UF astronomy engineers were deep into the design of the smallsat telescope.
With Garmendia leading the way, UF, the State of Florida and the Spanish government developed a plan for a $10 million collaboration to develop small satellite telescopes to look for dark matter, and to conduct Earth observations.
"Then there were elections in Spain, Garmendia left her post, and this was not a priority of the new government," Guzmán says with a shrug, so the project stalled.
But Garmendia, now back in the private sector, hadn't forgotten about the project. In 2013 she proposed forming a company to pursue the idea, and Satlantis was born as a UF spinoff.
Over the next several years — with support from UF Research, the Florida Space Research Institute (now Space Florida), and the Florida High Tech Corridor Council — Guzmán and the Satlantis team based at UF Innovate's The Hub in downtown Gainesville worked with astronomy department engineers on the new telescope.
Guzmán says they ended up with a binocular telescope because that allowed simultaneous observation in both the visible and infrared wavelengths with no moving parts.
"We designed an extremely simple camera, with extremely good performance," Guzmán says, "but we had to prove it could maintain that performance through the vibration of the launch and in the extremely tough environmental conditions in orbit."
The first two prototypes demonstrated how far they had to go, Guzmán says. The lens coatings peeled off the first prototype when tested for the extreme heating and cooling of space and a launch vibration test rattled the second prototype to pieces.
"So at that point we had no camera and we had no money," he says with a smile. "So we turned to our last untapped resource, our lifetime savings, and we went back to the drawing board."
The Gainesville-based Satlantis team, working with an engineering firm in northern Spain where Satlantis was now headquartered, redesigned the device, and this time it passed all the tests.
After a few more iterations, the Satlantis telescope was ready to head to space. On May 20, 2020 Satlantis' iSIM-170 camera launched from the Japanese Space Agency's Tanegashima Space Center and was installed on the International Space Station (ISS).
---
"For the first time, we demonstrated sub-meter resolution images from the ISS with a camera that could fit on a small satellite," Guzmán says of the 6-inch diameter lenses. "Nobody had done that before."
In December 2021, a smaller iSIM-90 camera launched to the ISS aboard a SpaceX rocket for additional testing to demonstrate its overall ultra-high resolution; its ability to maintain resolution across the spectrum, from visible to near infrared; and its ability to scan large areas of the ground while moving along and across its orbit.
And on May 25, 2022, Armsat-1 launched from the Kennedy Space Center aboard a SpaceX rocket and was deployed into a polar orbit 530 kilometers high. The mission is backed by the government of Armenia, which hopes to use the images for emergency management, environmental monitoring and other applications, according to Prime Minister Nikol Pashinian.
Advantages of Satlantis
Guzmán says Satlantis' technology offers three competitive advantages over existing satellite imaging systems.
The first is the ability to apply super resolution algorithms developed for deep space imaging to produce Earth images with detail that equals a satellite about 10 times larger, and therefore 10 times more expensive to build and launch.
The second is the ability to take images in many color bands without any loss of resolution or blurring.
"As in astronomy, we do this by taking many, many snapshots very, very quickly," Guzmán says. "It's like a laser pulse and we can then reconstruct the image without any blurring."
The third advantage is that the camera can sweep back and forth, 30 degrees in each direction, allowing it to follow irregular structures, like coastlines, as it passes overhead.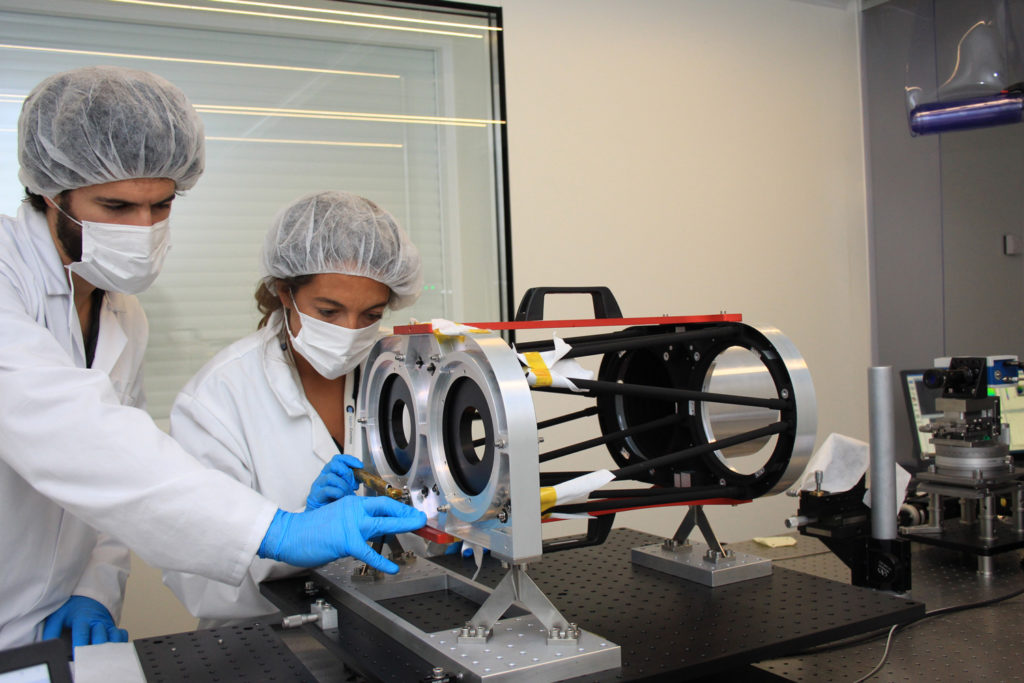 ---
Like any startup company, Satlantis has been working hard to develop relationships with potential customers in a wide range of industries who can take advantage of these unique capabilities.
For example, Satlantis has contracted with an environmental services subsidiary of Williams Companies, one of the United States' leading natural gas suppliers, to check the company's primary natural gas pipelines for methane leaks that are damaging to the environment and cost the company millions of dollars annually.
"Williams is extremely well positioned with our large-scale energy infrastructure network to drive the next generation of the clean energy marketplace," says Chad Zamarin, a senior vice president at Williams. "Our investment in the Satlantis technology … will further enhance emissions detection and measurement capabilities, which is key in the delivery of the responsibly sourced natural gas."
Satlantis is also partnering with its Innovation Hub neighbor Agriculture Intelligence to leverage both companies' strengths in the fight against the greening disease that is decimating Florida's citrus industry.
"We need to know how many productive trees are there, and just as importantly, how many are missing," says Matthew Donovan, CEO of Agriculture Intelligence. "Because Florida growers must contend with storms, freezes and acute events, as well as the presence of disease, our goal is to shorten that time between data collection and analysis and, therefore, the decision loop for growers to take action to save their trees."
Agriculture Intelligence harnesses a system called Agroview which captures inventory data using drones. The system was developed by Yiannis Ampatzidis, an assistant professor of agricultural and biological engineering with UF's Institute of Food and Agricultural Sciences. The collaboration with Satlantis could drastically speed up that data collection using a satellite pointed at Earth.
"Our alliance will enable us to develop one of the most on-demand applications for Earth observation — precision agriculture — and we will do it in collaboration with a company that owns an impressive technology," said Aitor Moríñigo, executive vice president of Satlantis LLC. "While drone technology can provide higher resolution than satellites, it lacks the scale that is required to cover large fields of crops. The combination of drones and satellites covering these fields results in the optimum methodology, well ahead of the current state of the art."
A New 'Constellation'
Ultimately, Satlantis hopes to have "constellations" of small satellites circling the Earth, gathering petabytes of data that can be used by different customers for different purposes.
"If you have only one satellite, you typically would have one to three observations every day of a specific location. If you have three satellites, it will be one every 3-4 hours. If you have 30 satellites, it will be one every 30 minutes," Guzmán says.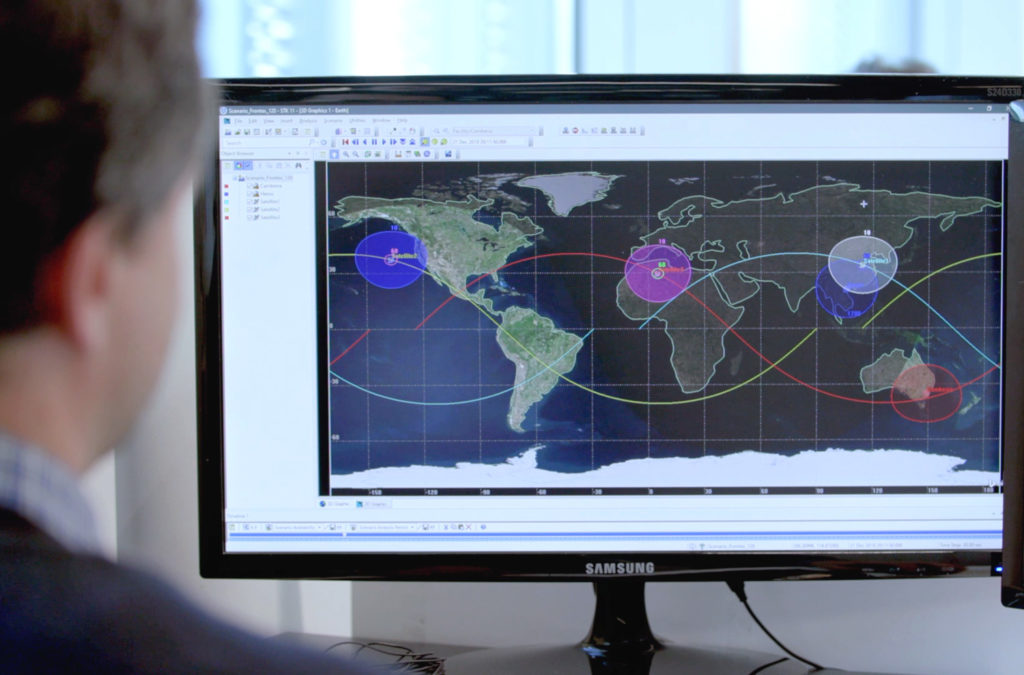 ---
As the number of satellites and the volume of data grows, Guzmán says the ability to digest and extract useful information will grow also. And that's where UF's artificial intelligence capabilities come in.
"With constellations, we're getting huge amounts of data, much of which is repetitive, so the valuable information is often in what changes, whether it is methane leaking into the atmosphere from pipelines, plastics floating in the ocean, or citrus greening in orange groves," Guzmán says. "We hope to use artificial intelligence — neural networks for example — to train the satellites to make decisions about where to point the cameras to increase the probability of capturing areas of interest in real-time."
Guzmán looks back on the serendipity of the postponed launch and Cristina Garmendia's offhand question about turning the telescopes around, at political changes in Spain and failed prototypes, and then he looks at the images being captured by Satlantis.
"I come from astronomy. I have spent my whole life outside the clouds, so this was a completely different world," he says. "I'm still mesmerized about the beauty of the first images that we took. To see that our technology is taking these beautiful images of our planet Earth is so rewarding."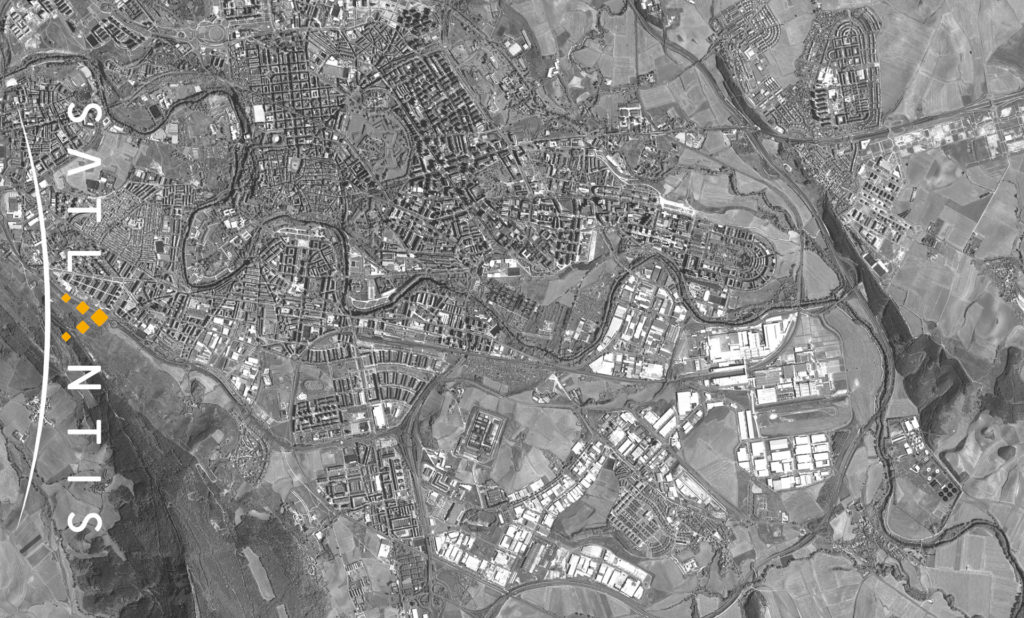 ---
Source:
Rafael Guzmán
Professor of Astronomy
guzman@astro.ufl.edu