Jasmine McNealy, University of Florida College of Journalism and Communications associate director of the Marion B. Brechner First Amendment Project and Telecommunication associate professor, has been named one of the "2021-100 Brilliant Women in AI Ethics" during the virtual Women in AI Ethics Summit held Dec. 3-5.
McNealy is a media and technology scholar with a view toward influencing law and policy.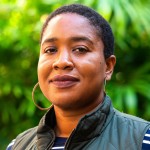 The annual list highlights rising stars as well as aspiring women from non-technical fields who are trying to make Artificial Intelligence more diverse and accessible for everyone. Women in AI Ethics' mission is to increase recognition, representation, and empowerment of brilliant women in this space who are working hard to save humanity from the dark side of AI.
This story originally appeared on UF College of Journalism & Communications.
Check out more stories on the UF A.I. Initiative.