The number of American travelers who said domestic air travel should be avoided increased from 32% to 43% in three weeks, according to a new survey.
Researchers at the University of Florida have been closely monitoring the impact of COVID-19 on Americans' travel plans since the onset of the outbreak in January. These results come from the third round of data gathered in a nationwide online survey of 500 U.S. travelers March 3 and 4, 485 U.S. travelers on February 7 to 9, and 550 U.S. travelers on January 26 and 27. During the data collection period for the previous two studies, the vast majority of reported positive COVID-19 cases were isolated to China. However, the virus has now been declared a pandemic and has spread to over 113 countries/territories/areas.
"Given the rapidly changing dynamics of the current COVID-19 situation, it is anticipated that the results would be very different if the survey was conducted today," said Lori Pennington-Gray, director of UF's Tourism Crisis Management Initiative.
A fourth wave of the survey launched today as a response to evolving domestic travel restrictions. Results are expected by the end of the week.
The increase in travelers' perception of risk was less dramatic for international air travel, increasing from 52% to 57%. However, it shows that the gap between avoidance of domestic air travel is quickly closing in on international air travel, according to Ashley Schroeder, managing director of UF's Tourism Crisis Management Initiative and an Assistant Professor at Penn State University.
The number of those who changed their travel plans increased from 30% to 34% since the February survey.
The study also compared travelers' perceptions of safety of different travel types and areas both domestically and internationally. Theme parks were perceived as being least safe both within and outside of the U.S., followed by large scale events and conferences/conventions/exhibitions. These different types of travel commonly draw large crowds, which may explain why they are perceived as riskier for domestic and international travel, said Pennington-Gray, a professor in UF's College of Health and Human Performance.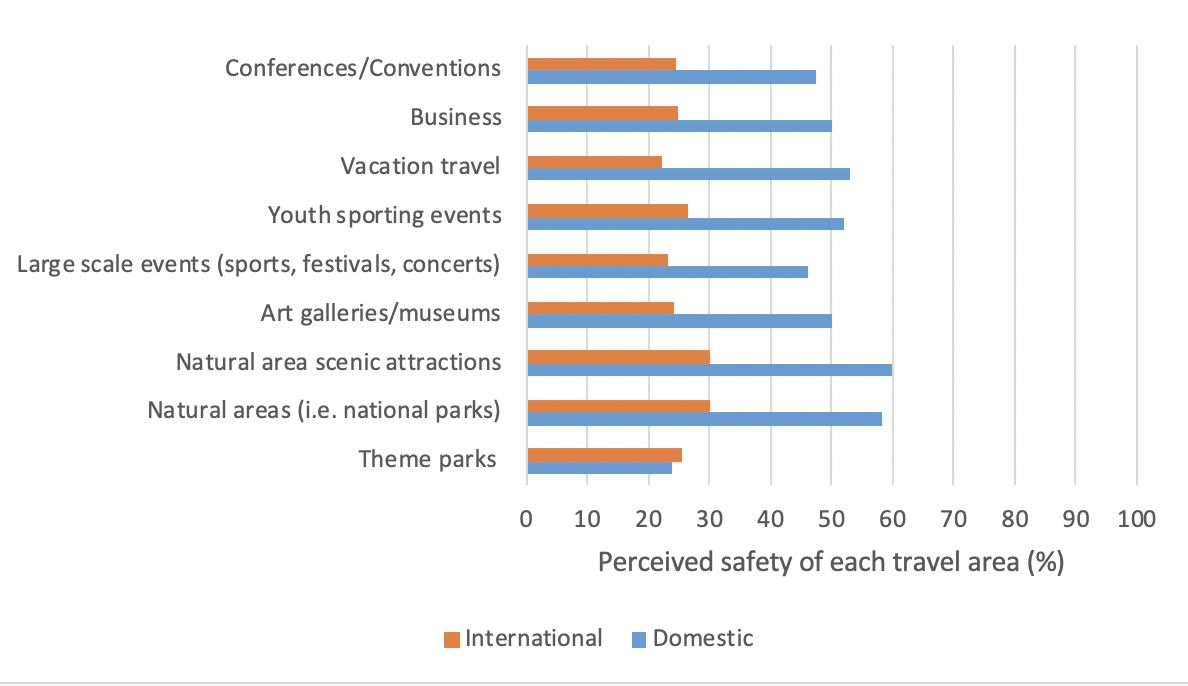 Questions relating to U.S. travelers' knowledge about the coronavirus were added to the most recent survey. Researchers found that while most travelers are aware of how to avoid contracting coronavirus, around 20% did not believe that coronavirus could be prevented from washing hands or avoiding contact with sick people, and over half (53%) were not aware of the effectiveness of an alcohol-based hand sanitizer. The CDC does not recommend people who are healthy wear a facemask; however, the survey found that nearly half (46.5%) believe that they should wear a facemask if they are well.
There has been a recent push to inform the public about the importance of washing hands and using an alcohol-based hand sanitizer; however, these results indicate that more clarification and information on coronavirus protection are needed. Most interestingly, almost half of US travelers (49%) reported they did not know what to do if they contracted the coronavirus.
About the Tourism Crisis Management Initiative
The Tourism Crisis Management Initiative (TCMI) at the University of Florida is the only tourism focused academic crisis management institute in the world. TCMI is housed in the Eric Friedheim Tourism Institute within the department of Tourism, Hospitality and Event Management. TCMI develops research-driven solutions that address planning, preparedness, response, and recovery in local, state, and national tourism economies. For more information, see www.tourismcrisis.org.