Five or six years ago, David Mazyck taught an informal workshop to help students put together their applications for the prestigious National Science Foundation Graduate Research Fellowship.
The fellowship is among the most generous funding for graduate students and gives them great freedom to conduct their research and find their footing in the world of the science academy. For 2019, the funding is $138,000, a sum that can be life-changing for a young researcher.
All five students in Mazyck's workshop won a fellowship.
Mazyck says the most challenging part of mentoring these elite students is convincing them that reviewers want to know about them, not just their research. Mazyck's experience is mirrored by anthropology Professor Connie Mulligan, who also mentors graduate students seeking the fellowship.
"The students are so focused. That's what a graduate student is supposed to be. They're supposed to be obsessed with their research, right?" Mulligan says. "But your research could change — and that's fine — so, who are you as a researcher?"
Today, Mazyck's workshop is a class, open to all majors, and that question is key, he says.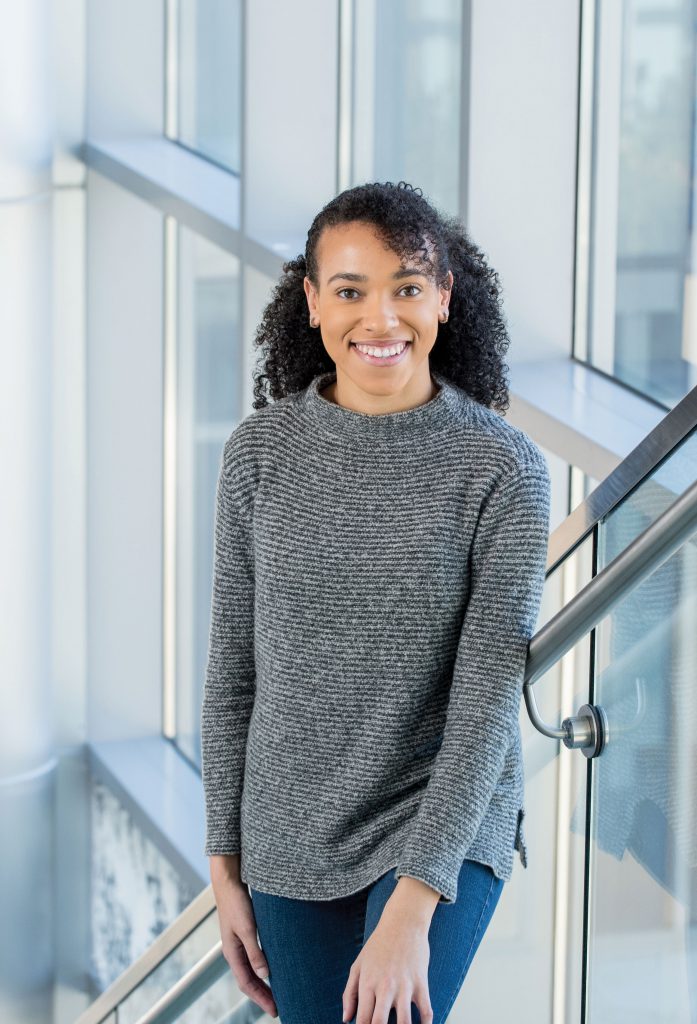 "Most experiments fail," Mazyck says. "So how do you convince a reviewer that the unique experiences you've had on your educational journey will motivate you to get out of bed and go to the lab, even knowing you likely will fail? What is it that makes you think 'I can do this?'
"That's what reviewers want to know."
That can-do spirit shows in the 80 UF graduate students who have won the fellowship since 2013. NSF gets about 12,000 applications a year and accepts about 2,000. The students receive a stipend of $34,000 a year for three years, with additional support to the institution of $12,000 a year for three years. The fellowship's purpose is to ensure the vitality and diversity of the science workforce for the United States.
The group is impressive, says Judith Traveis, the Graduate School assistant dean for administration who oversees the fellowship.
"When you hear what they're doing, they all want to change the world," Traveis says.
But first, the fellowship changes them.
"The fellowship really helped me take advantage of research opportunities," says Andreana Cunningham, who works in anthropology Associate Professor Valerie DeLeon's lab. "It has allowed me to embrace an interdisciplinary approach to my research. I've been able to venture outside my department and think in ways I don't think I necessarily would have otherwise."
Cunningham is in the preliminary stages of her dissertation. She uses skeletal remains to study human diversity — historically and genetically — to challenge preconceived notions about identity and racial boundaries, both among groups of people and within groups of people. With her fellowship funding, she has been able to use the vast skeletal holdings of the Smithsonian Institution and this summer will travel to the Cleveland Museum of Natural History.
"We are far more diverse than we think we are," Cunningham says. "Humans move all over the place and carry different traditions, different languages, different genetic material."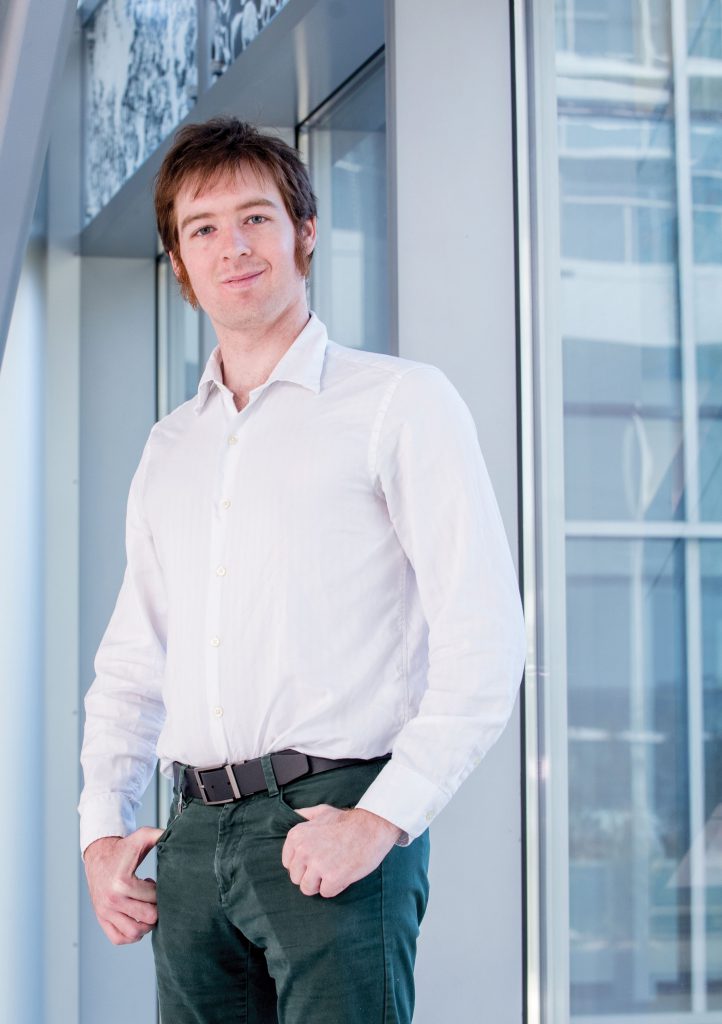 In Mulligan's lab in the Genetics Institute, Christopher Clukay is working on two projects.
In one, he has examined the genes related to stress response in Syrian refugee children who participated in a stress mitigation program. While the intervention helped everyone, his analysis showed that children with a certain genotype responded to the intervention a bit faster.
In his other project, he is analyzing DNA expression in pregnant women in response to the ongoing civil war in the Democratic Republic of Congo. There is evidence that a baby's DNA can be susceptible to the environmental stressors the mother experiences, so Clukay is also looking for markers of genetic changes in blood drawn from babies born to women in the war-torn region.
Clukay says he's not sure where his Ph.D. might take him but he is interested in both science policy and education. He enjoys teaching and with his chemistry and statistics background, often helps lab mates less versed in those fields. Although he started out in chemistry, he moved to anthropology because he wanted to do something to more directly help people. He says his favorite experience is watching someone who is struggling with a concept at the moment they catch on.
"You see the light in their eyes," Clukay says. "I believe in making a difference."
He has seen that light as a martial arts instructor, too, and his martial arts expertise has come in handy in unexpected ways. Once, when ice formed around the seal of a minus-80 freezer, threatening the samples inside, Clukay took matters into his own hands.
"I teach at a dojo, so I could see the weak points," Clukay says.
Three chops later, problem solved.
Another innovative thinker is Holden Harris, who works with Michael Allen in the Department of Fisheries and Aquatic Sciences. Harris, a former commercial spear fisherman, is investigating ways to take an invasive species, the lionfish, and develop it into a commercial fishery, both as a means of controlling its impact and using it as an economic resource.
"It makes sense to me that the best way to control a fishery is to develop it commercially," Harris says. "It's a free-market solution to managing an invasive species."
Lionfish consume native reef fish that are important for grouper and snapper. When lionfish show up, native species decline. But lionfish are edible, and the price for lionfish is higher than the price for grouper and snapper, so developing a fishery may be a good way to control their population, Harris says.
And in his own informal taste test, they got high marks.
"We had a couple different species of snapper and lionfish, and lionfish was voted the best one," says Harris, noting it was a different kind of peer review. "It was just me, cooking for friends."
Harris says the fellowship has allowed him to focus.
"The fellowship says 'your job here is to do this cool research.' It's validation," Harris says.
Mazyck remembers Harris in his class, and says, like other fellows, he pays it forward. Harris says he's happy to help the fellows coming behind him — Duy Nguyen and Ann Bernert among them — reading their applications and helping them as he can.
Although Harris is not in engineering, Mazyck did not hesitate to add him to the class.
"I couldn't help with his Ph.D. for a million dollars," Mazyck says. "My role was to help him understand how his distance traveled matters to him as a researcher."
Mazyck says fellows come from all walks of life. He had one student who was almost embarrassed about his affluent background, but after getting to know him, Mazyck realized he was a gifted teacher.
Another student, a superstar with a 4.0 GPA, had a normal childhood and went to college because it was expected. Mazyck discovered that she had a gift for mentoring.
Many other students, about a third, are from impoverished backgrounds. Their parents are starting to do well, but for most of their life, their family has struggled. He gets to know all their unique experiences, often meeting outside the classroom.
"I tell them to tell me about their childhood and their journey. What drives them? In engineering, we migrate here because of a passion for math and science but it goes beyond that," Mazyck says.
Mazyck tells the fellows to think about why their research matters to three people: a 12-year-old in Canada, a 12-year-old in Africa, and a 12-year-old in Syria, and ask themselves what they will do that will help those three people in their 20s.
One young researcher said he wanted to make smaller satellites. Mazyck asked him, "Who cares?" The researcher responded that smaller satellites are cheaper, and again, Mazyck replied, "Who cares?" On the third try, the young researcher got to the heart of the issue: smaller, cheaper satellites will make it possible to disseminate knowledge worldwide.
Mazyck says he often runs into his former NSF students on campus, which makes sense considering he has around 30 or 40 who have won or received an honorable mention.
"I love seeing these students on campus," Mazyck says. "NSF fellows all have smiles on their faces."
Recently, looking for mentors to help a new cohort of students, Mazyck reached out to his NSF grads.
"I sent out an email," Mazyck says, "and 18 responded within 30 seconds.
"That's what university life should be like."
Related Website:
This article was originally featured in the Spring 2019 issue of Explore Magazine.