The trial is part of the national HERO Registry centered on COVID-19 investigations.
University of Florida Health researchers in Jacksonville are part of a national effort to determine if the drug hydroxychloroquine, or HCQ, can help prevent health care workers from contracting the SARS-CoV-2 coronavirus, the virus that causes COVID-19.
Nizar Maraqa, MD, an associate professor at the University of Florida College of Medicine – Jacksonville who specializes in pediatric infectious diseases, is serving as principal investigator of the HCQ trial, which is part of the larger Healthcare Worker Exposure Response & Outcomes, or HERO, Registry. The effort seeks to help organizers better understand the challenges health care workers and related personnel face on the COVID-19 front lines.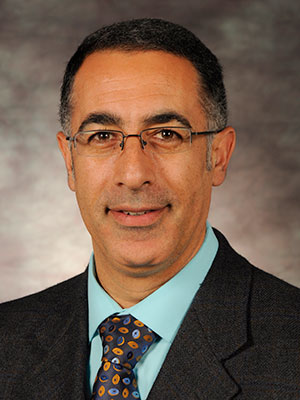 The HCQ trial, which is the first trial from the HERO Registry, involves randomizing health care workers to take either two HCQ tablets or a placebo daily for a month to determine whether the drug protects them from being infected with the SARS-CoV-2 coronavirus.
Nasal swabs and blood work are conducted at the beginning and end of the eight-week trial, with weekly online surveys facilitated in between. Participants will be asked about their exposures, the type of units or departments they work in, their use of personal protective equipment, their well-being and adverse effects to the drug.
UF Health Jacksonville and the UF College of Medicine – Jacksonville make up one of six sites in Florida and one of 40 nationwide that are participating in the trial. Maraqa says the aim is to have 15,000 health care workers across the country participate, with each site seeking to enroll 375 people.
Addressing safety concerns on HCQ
HCQ has been viewed unfavorably in some circles due to recent news coverage, much of which has been controversial. Maraqa says that has posed a challenge for investigators overseeing this particular trial.
"We have had to overcome the unbalanced coverage of hydroxychloroquine in traditional news media and on social media," he said. "Claims of lack of benefit and/or safety concerns have been reported without paying attention to salient, but important, points."
Maraqa says those points are that:
HCQ has been used safely for more than 50 years to prevent and treat malaria and other rheumatologic diseases.
The drug's safety profile is well known and risk factors for developing adverse effects are well understood.
Unlike other studies, this particular trial looks at HCQ as prevention against the SARS-CoV-2 coronavirus and COVID-19 and is conducted in healthy workers who have not been infected and who don't have severe underlying conditions such as heart arrhythmias or kidney failure.
The trial has a drug safety monitoring board that continuously reviews and monitors reported safety events.
The trial excludes people who have certain underlying conditions or are taking high-risk medications.
About the HERO Registry
The HERO Registry is funded through an award from the Patient-Centered Outcomes Research Institute and is being coordinated by the Duke Clinical Research Institute. The program allows registrants to share their stories and experiences during the pandemic with others, openly discuss challenges and accompanying solutions and respond to inquiries that track stress levels and burnout.
Interested health care workers can register for free and participate as much or as little as they like through surveys and clinical trial opportunities like the HCQ trial. Studies will help improve understanding of COVID-19 and beyond, generating evidence to help keep health care workers safe and healthy.
"As the region's premier academic health center, it is our duty to be at the forefront of efforts like the HERO Registry," said Alexander Parker, PhD, senior associate dean for research at the UF College of Medicine – Jacksonville. "Times of crisis can create a great deal of fear and uncertainty. It is vital that UF Health continues to lead the way by providing answers to important questions of how to keep our health care workers and our community safe."
Visit this link for more information and to register for the HERO Registry.
This story was originally posted on UF Health Jacksonville.
Check out more stories about UF research on COVID-19.