University of Florida faculty earned $861 million in research funding in fiscal year 2021 – the second-highest amount ever – despite the ongoing challenges presented by the pandemic.
This total does not include an additional $77 million in non-research U.S. Department of Education funding that UF received through the Coronavirus Aid, Relief, and Economic Security (CARES) Act. The total with that money included was $938 million. Last year, the university received $900.7 million, of which $15.5 million was through CARES.
"Overall, the performance of UF faculty and staff last year was remarkable, particularly considering the constant challenges presented by the COVID pandemic," said David Norton, UF's vice president for research.
UF received about $602 million in research funding from the federal government, including a record $250 million from the National Institutes of Health, the university's largest research funding source.
"Eclipsing a quarter billion dollars in NIH funding really illustrates how our biomedical research portfolio has grown," Norton said. "Across UF Health, researchers are developing new therapies and treatments that impact the well-being of people everywhere."
UF received $63.7 million from the state of Florida and local governments; $56.8 million from industry; $104.9 million from private foundations; and $33.6 million from other sources.
The College of Medicine in Gainesville received $319.8 million; the Institute of Food and Agricultural Sciences received $155.6 million; the Herbert Wertheim College of Engineering received $117.7 million; and the College of Liberal Arts and Sciences received $39.6 million. UF's other colleges received a combined $228.3 million of non-CARES funding.
UF researchers submitted a record 5,572 proposals to public and private funding agencies and the university received more than 60 awards of over $1 million.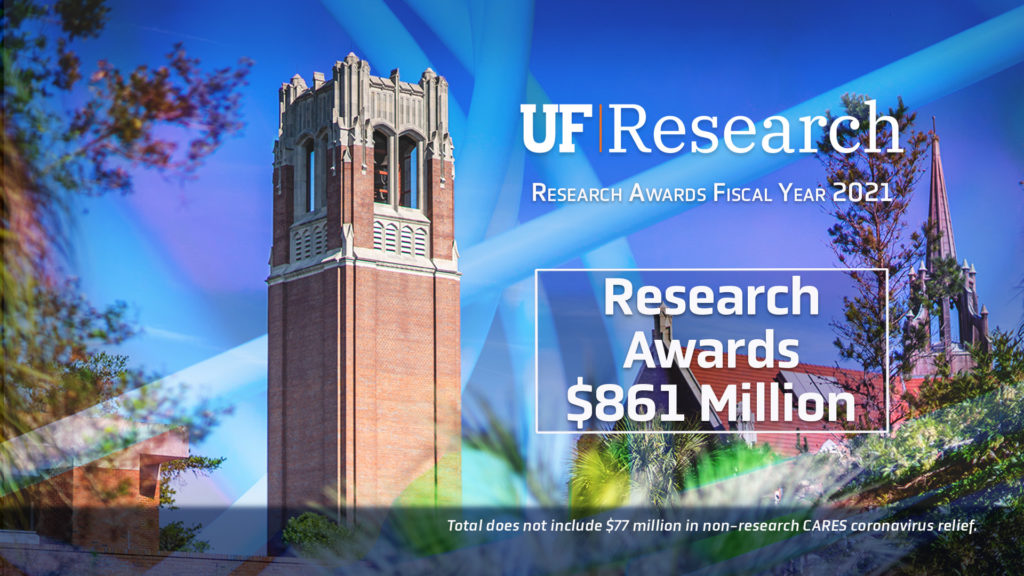 The USDA's National Institute of Food and Agriculture awarded a consortium of 10 universities across the country led by UF food science professor Michelle Danyluk $7.265 million to develop an integrated food safety system for fresh fruits and vegetables that protects the food supply through production, harvest and processing.
"This proposal was specifically developed to respond to a critical national problem that is dramatically affecting specialty crop producers and processors: food safety and implementation of new federal food safety regulations," said Danyluk. "The long-term goal is to provide the industry with tools to effectively manage food safety risks while making the most efficient use of available resources."
The U.S. Department of Education awarded the College of Education's Lastinger Center $6.5 million for the Flamingo Literacy Matrix, an online professional development tool to train teachers in the latest reading instruction skills.
"Based on the science of reading, this systematic training prepares teachers to effectively teach reading; diagnose reading issues; and intervene appropriately using research-based strategies," said education professor Paige Pullen, who leads the project.
Rhoel Dinglasan, a professor of infectious diseases in the College of Veterinary Medicine, was awarded $6 million by the nonprofit Global Health Innovative Technology Fund to test a new malaria vaccine in humans. Dinglasan has worked most of his career to end malaria, which disproportionately affects people living in poverty in developing countries.
The vaccine Dinglasan has been developing immunizes mosquitos against infection by the blood-borne Plasmodium parasites that cause malaria, after they ingest the blood of a person who has malaria but who has received the vaccine. After being exposed in this way, the mosquitoes cannot transmit the parasites and infect other people.
"Many of the existing malaria vaccines and drugs have failed because the Plasmodium parasites have coevolved with mosquitos and people," said Dinglasan, who is also a member of UF's Emerging Pathogens Institute. "They know how to dodge our immune system and live within mosquitos, and that's a hard game to circumvent. What we're doing is completely different. We're focusing on stopping the mosquitos from transmitting the parasites to people in the first place."
The federal Defense Threat Reduction Agency awarded Henry Heine, an associate professor of medicine at UF's Institute for Therapeutic Innovation in Orlando, $5.2 million to combat antibiotic-resistant bacteria.
The funding will be used to study 28 compounds, eventually narrowing them down to one drug and a backup candidate that can destroy bacterial pathogens that would otherwise evade current antibiotics. The benefits should be twofold: Creating a compound that could be used to address a bioterrorism event while also treating stubborn infections among the public or hospitalized patients.
"We're working to identify new and distinct therapeutics to treat diseases in general and address certain subclasses or organisms that could be misused," said Heine.
NASA awarded mechanical and aerospace engineering associate professor John Conklin and his team $2.8 million to continue developing a key component of the Laser Interferometer Space Antenna, or LISA, called the Charge Management Device.
LISA is a space-borne gravitational wave observatory being developed by the European Space Agency. LISA is planned to consist of three spacecraft that are separated by 1.5 million miles in an Earth-trailing orbit. These three spacecraft relay laser beams between each other in a search for gravitational wave signatures that come from distortions of space-time. Among NASA's contributions to the LISA mission, the Charge Management Device is the only one provided by a U.S. academic institution.