A team of University of Florida neuroscientists will analyze two different smell tests under a new National Institutes of Health grant aimed at developing inexpensive, at-home tests to help identify new cases of COVID-19 and provide a warning sign of a community outbreak in time to thwart it.
The UF team and collaborators at Penn State and Arizona State University will evaluate results of two self-administered, scratch-and-sniff smell tests. The first asks users to identify odors such as smoke, strawberry, chocolate and onions, while the second, novel test is designed to reveal a participant's sensitivity to different concentrations of the same odor.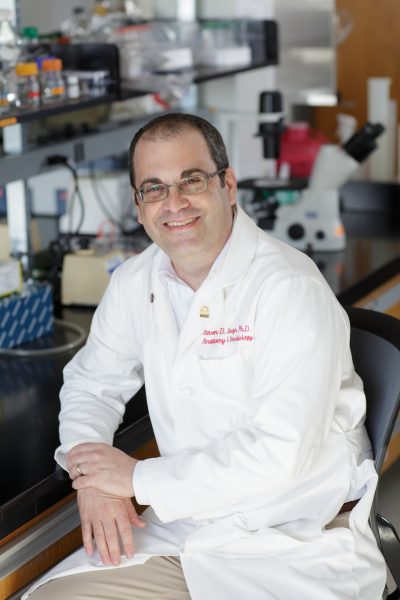 "One thing that's become very apparent with COVID-19 is that there's no single symptom that is universal for everyone who has the disease, but one of the most common is smell loss, especially early, sudden smell loss," said Steven Munger, Ph.D., director of UF's Center for Smell and Taste and principal investigator of the new study. "There are a growing number of studies now that suggest 50 to 70% of individuals with COVID-19, even if don't have another symptom, are experiencing smell loss."
The new two-year, $912,000 study, funded by the Coronavirus Aid, Relief, and Economic Security (CARES) Act and the NIH's RADx-rad program, will include participants who are COVID-positive and COVID-negative from various racial and ethnic backgrounds and who live in the communities surrounding UF, Penn State and Arizona State. Participants will be asked to use the two different smell tests to determine which is a better predictor of a COVID diagnosis, Munger said.
Separately, investigators also will recruit participants in residential and workplace communities in those same areas to take a smell test weekly over six weeks to track how many become COVID-positive in an effort to predict COVID emergence in a community. "If you suddenly see an increase in smell loss in a dormitory, for example, that could be an early warning sign of community spread," Munger said.
The next step after the study concludes could be to seek approval from the U.S. Food and Drug Administration to use a smell test to formally diagnose COVID-19. Such a test could provide another weapon in the fight against the coronavirus.
"Even though vaccines seem to be on the horizon and COVID testing is becoming more accessible in a variety of environments, there are still plenty of people that have a hard time getting tested or being tested regularly enough to adequately screen for COVID-19," Munger said. "Augmenting that type of testing with smell testing could provide an inexpensive and distanced way of identifying people who have acquired COVID-19 and helping them to get treatment or isolation early on."
It's long been known that viruses, including flu and common cold, can cause smell loss, but it was surprising how dramatic and pronounced smell loss is with COVID-19, Munger said.
Smell loss can result from a wide array of other disorders, including allergies, inflammatory sinus disease, traumatic brain injury, Parkinson's disease and congenital anosmia (lifelong inability to smell), among other conditions.
At the UF Health Smell Disorders Program, a rare model launched in 2018 that pairs clinical care with extensive research to identify mechanisms of smell loss, physicians and researchers collaborate to improve diagnosis and management of these conditions.
This story originally appeared on UF McKnight Brain Institute.
Check out stories about UF research on COVID-19.